New Technologies Make Tankless Water Heaters More Attainable Than Ever
Learn how installing a non-condensing tankless water heater can benefit both the customer and the pro.
When constructing a home, the cost of water heating appliances and installation may come into consideration with your customers. They may be questioning whether to install a tank versus a tankless water heater, and this is where common myths associated with tankless water heaters may influence purchase decisions.
One such myth: Tankless water heaters are expensive to purchase and install.
Truth: With newer, smarter and more innovative tankless technology being introduced to the market — including smart recirculation technology — tankless installations and products have become more affordable in recent years, especially when looking at non-condensing units.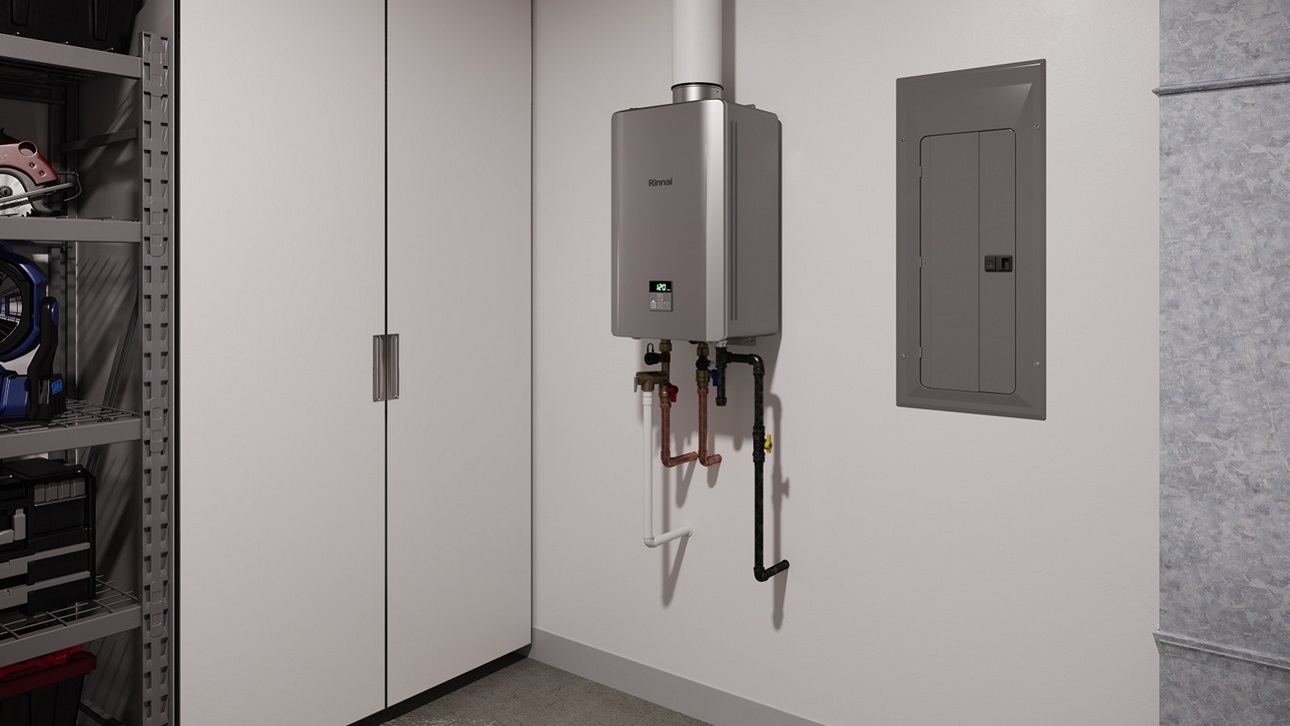 Affordability of Tankless Units
When talking with a client about their options, one of the most important attributes of a tankless water heater you'll want to emphasize is the cost-efficiencies it provides, including increased energy efficiency, water savings and product longevity. All of these factors add up to an affordable water heating solution.
Increasing energy efficiency: Common residential tanks have a thermal efficiency of around 60-65% whereas non-condensing tankless units are around 85% thermally efficient, using less fuel and energy to function. New technologies, such as Rinnai's recently launched RE Series™, featuring Smart-Circ™ Intelligent Recirculation™, can predict a household's hot water needs. Through smart recirculation, energy is conserved by scheduling hot water delivery based on past usage versus circulating at regular time intervals. Smart recirculation ensures the pump doesn't waste energy by running during off-times when hot water is not being used.
Increasing water conservation: The established recirculation patterns of a tankless unit help customers save on water use, eliminating the need to run water from a faucet or other appliance until it reaches the desired temperature. Hot water will be available immediately when needed, reducing the amount of wasted water.
Increasing longevity: Based on a study from the Department of Energy, the typical lifespan of a tank water heater ranges from 10-15 years, whereas a tankless water heater can last up to 20 years. Additionally, key components of a tankless water heater can be easily replaced which can extend the lifespan even further.
Comparable in price: It's important to also note that non-condensing tankless water heaters have become comparable in price with standard tanks over the years. When looking at gas water heater price examples online, a non-condensing tankless water heater can be found for as low as $700, while tanks are priced at around the same. This price shift is mainly due to the increasing cost of manufacturing materials which have had a greater impact on tanks compared to tankless units.
Cost-Effective Installation
Another aspect that impacts purchase decisions is the time and cost invested into installing the product. Although new tankless technologies have affected the cost of the product, recent innovations have also greatly reduced the time spent on installation, thereby decreasing overall costs.
For example, the RE series offers affordable concentric venting solutions for non-condensing units. Additional time and money are saved, as a dedicated return line isn't necessary for the recirculation technology. Instead, a thermal bypass valve can be used, which allows water already in the system to recirculate through the cold-water line back to the tankless water heater for heating, enabling faster hot water regardless of plumbing configuration.
And today, there are significantly more installers who have been trained and are experienced in installing tankless water heaters than there were ten years ago. Well-trained professionals can reduce installation costs to the home owners as they can reduce the amount of time required to complete the job.
Thanks to the latest advancements in water technology, tankless water heaters are now more affordable than ever before. To learn more about the RE Series, visit rinnai.us.