Harvard Community Solar Garden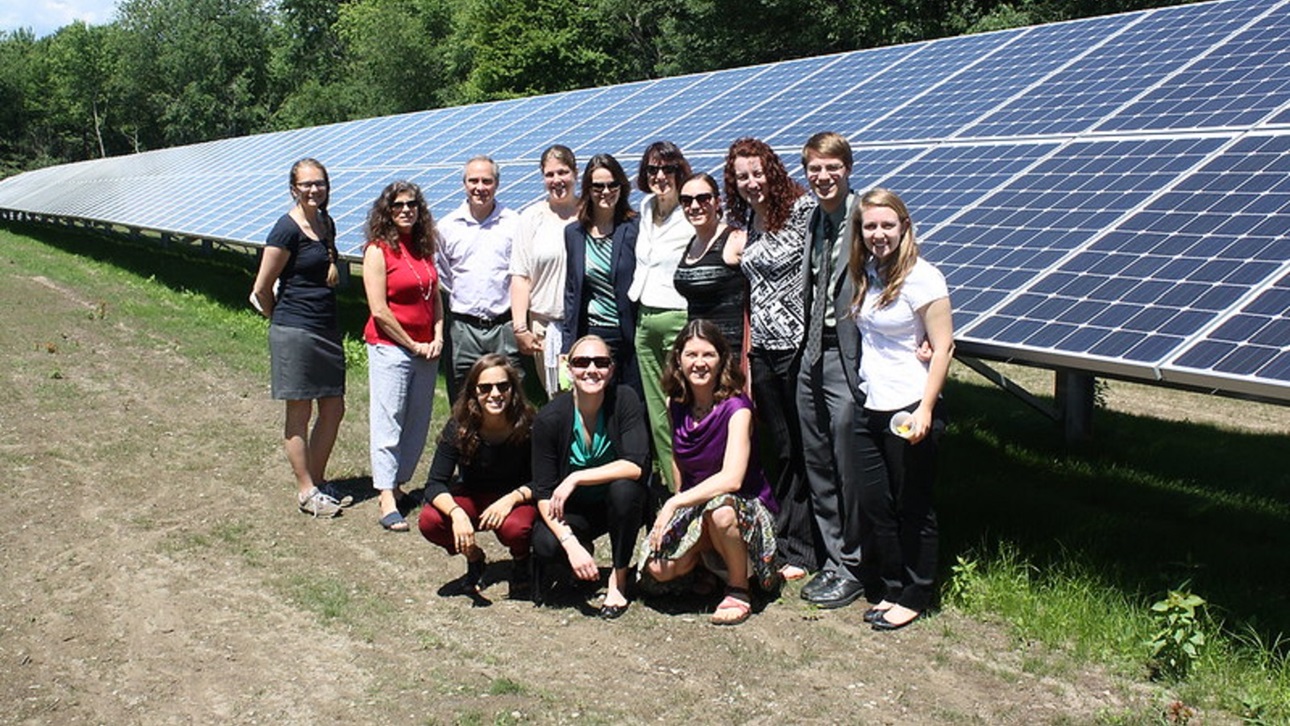 Location: Harvard, Mass.
Size: 500 kW
Structure: Shareholder Owned
Status: Fully Subscribed
In Massachusetts' first round of the Solarize Mass program in 2011, a bulk-purchasing program that uses economies of scale to reduce solar installation prices for participating individuals, Harvard residents signed 75 individual contracts totaling 402 kW of solar PV capacity. The program was successful in reducing the price/watt below the State's average; however, there were many residents and businesses in the town who could not install solar for one reason or another. The disappointment of those who were unable to install solar through the program fueled their ambition to find another option: What about one large array in a field that has "shares" of panels that are virtually net metered to individuals
This grassroots, community-driven Solarize campaign powered the idea for the Harvard Community Solar Garden, which would be the first project of its kind in Massachusetts. The project is collectively owned and run similarly to a cooperative, where the "subscribers" make up the cooperative, and therefore own the portion of the panels that they sign up for. Shareholders then receive credits on their electric bill based on how much energy was produced by their portion of the panels. Individuals can own up to 15 kW of the larger array.
As the first of its kind, the project came with several challenges, but also opportunities and valuable lessons learned:
Challenge: Zoning Issues
Solar wasn't "allowed" on certain types of land, such as agricultural. What about an abandoned town dump? This would pose challenges due to its swamp-like characteristics, making that option unfeasible. Eventually, the project would be sited on commercially-zoned land.
Resolution: Forming New Partnerships
By collaborating and working intimately with zoning and code officials, as well as Harvard residents, project managers and the engineering firm were able to resolve zoning issues. After being rejected twice, the final permit was granted after a special town meeting that worked through zoning officials' concerns.
Challenge: Permitting
The building department charged its highest possible fees due to perceived risk.
Resolution: Exploring Multiple Financial Incentive Opportunities
To offset the many costs associated with the project being the first of its kind (including high permitting fees), the project team creatively worked towards solutions that would result in a multitude of financial incentives, including the Federal 1603 Treasury grant, Commonwealth Solar II rebates from the State, income from Solar Renewable Energy Certificates, tax credits, and more.
Challenge: Board of Selectmen
The Town's chief executive body that makes decisions about operating procedures for the government had concerns about having a large commercial-scale project in a primarily residential area.
Resolution: Collaboration Is Key
With so many stakeholders involved (municipal building department, State legislators, volunteers, town residents, the utility company, etc.), this project would not have been possible. Through a special town meeting that was held about the project, the Harvard Solar Garden team and a few dedicated members of the Board were able to explain the importance of the project, the value it would bring to the community, and ease apprehensions from other members of the Board.
Challenge: Town Assessors
The project also had challenges with the town assessors' office, who wanted to tax the array as commercial, which would hurt the financial viability of the project.
Resolution: Early and Often Communication
With many challenges, collaborating and communicating to all stakeholders was incredibly important. Effective communication and collaboration resulted in the Governor signing An Act Relative to Community Shared Solar Energy Systems in the Town of Harvard into law. This would allow community shared solar systems in Harvard to be exempt from taxes for 20 years post-installation.