Texas Custom Builder Says GMB Means Credibility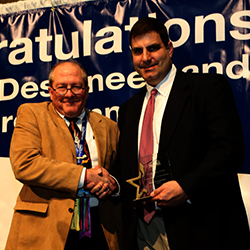 Everything is bigger in Texas, even professional designations.
Given the choice to pursue NAHB's Certified Graduate Builder (CGB) designation or the more intensive Graduate Master Builder (GMB), Michael Garabedian opted for the latter.
In 2004, Garabedian, president and owner of Garabedian Properties in Southlake, Texas, took NAHB's Builder Assessment Review (BAR), 150 questions that test builders' expertise in building technology, business and finance, project management, sales and marketing, and safety. After receiving his BAR results, he decided not to wait to pursue the GMB.
"If I had to take the classes anyway, I wanted to earn the highest designation possible," said Garabedian, whose company is one of the premier custom builders in northeast Tarrant and Denton counties. "There's nothing wrong with the CGB, but I felt getting the GMB would make me stand out even more because there aren't a lot of GMBs in the Dallas/Fort Worth area. I guess that's my personality. I always want to reach for the next level."
A decade later, Garabedian is true to his word. NAHB named Garabedian the 2013 Graduate Master Builder of the Year for serving as a powerful ambassador for the GMB and NAHB's other designations. Garabedian and other Designee of the Year winners were recognized on Feb. 3 at the Designation Achievement Reception during the 2014 International Builders' Show in Las Vegas.
"Getting nominated by one of my peers was flattering," Garabedian said. "To be the top GMB in the country is a huge honor." Garabedian mentions the GMB and his other designations in his bio, Linkedin profile and website. He never wastes an opportunity to tell current and potential clients he's a GMB. He's excited to share with them that he's also the GMB of the Year, too.
"Most of my customers don't understand what the GMB is, so I have to offer an explanation," Garabedian said. "With all my certifications and designations, I share with them the classes I attended and the continuing education which is required. When they hire me, they are getting a builder who believes in education and is always striving to be better."
While Garbedian has been in the building industry for more than two decades, he said the advanced GMB classes he took, such as Financial Management, Land Acquisition and Development Finance, and Risk Management and Insurance for Building Professionals, added to his knowledge. In addition, Garabedian earned the Certified Green Professional ™(CGP) to learn more about sustainability and building high-performance homes.
"To be honest, I take so many classes every year that they all start to run together," Garabedian, "but the GMB classes helped fill in the gaps."
As a custom builder, Garabedian said he often deals with particular customers who don't always know what they want. The fact he is a GMB gives him more credibility in their eyes.
"I think it instills confidence. My customers know I am going to do a professional job for them," Garabedian said. "In our industry, there are builders and contractors out there who aren't reputable. Trust means everything. As a GMB and a builder who takes education seriously, I feel like I am at a higher level than my competition."