Global Innovation Award Winner Looks to Perfect 3D-Printed Homes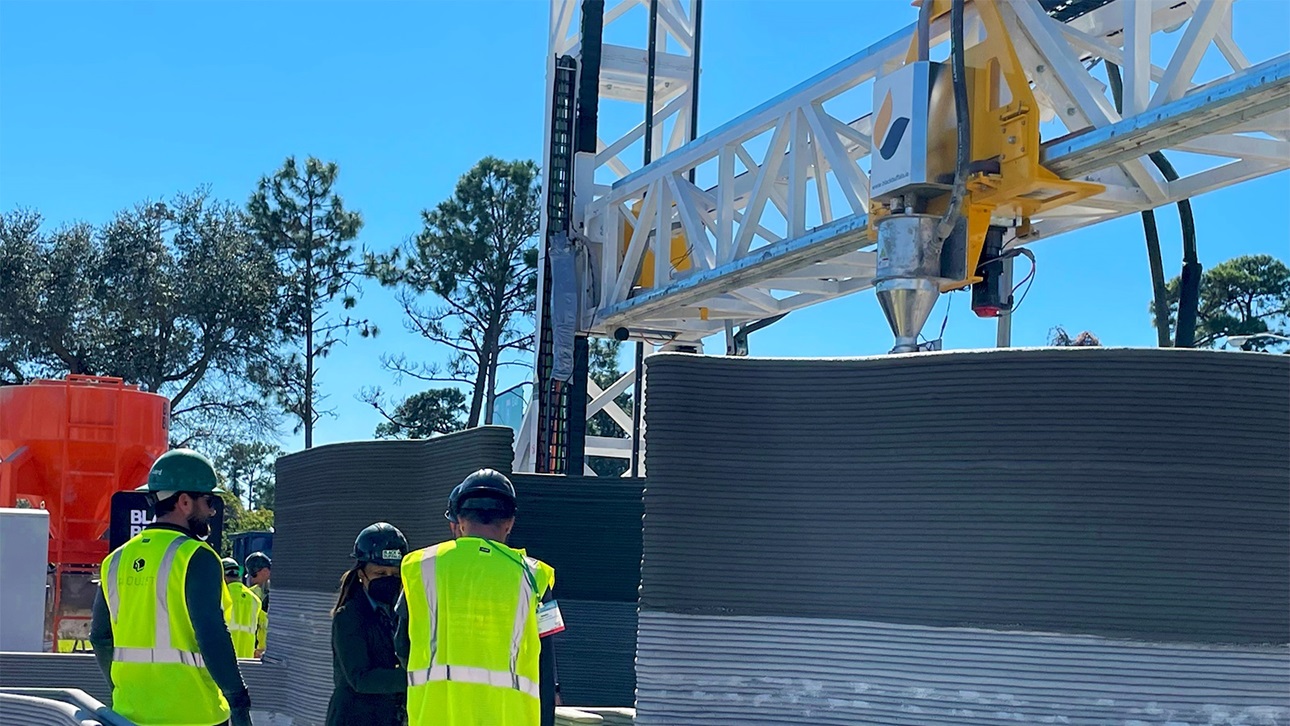 When Black Buffalo 3D appeared at the 2023 International Builders' Show (IBS) in Las Vegas in February, their team was surprised when it was announced they were the recipients of the Global Innovation Awards' Gold Award for Building Material and Structural Component.
"My [acceptance] speech was not pre-written or planned," says Peter Cooperman, the chief marketing officer at Black Buffalo 3D. "It was kind of like the Emmys. It was really funny."
The company's win for their NEXCON 1-1 3D Construction Printer and MAPEI Planitop 3D NA ink may have been unexpected by their team, but their printer had been generating buzz since making its global debut at IBS 2022 in Orlando. In fact, many of those 2022 convention-goers became believers in 3D construction after watching the NEXCON print a 1,600-square-foot home in only eight hours. Once it was completed, attendees were able to take a tour and experience firsthand what the future of home building could look like.
While the live demonstration offered major wow factor, Black Buffalo 3D still needed to prove themselves on paper with long-term testing and technical data on the structural capabilities of 3D printing. This included some not-so-exciting — yet critical — work, like conducting multiple rounds of printing concrete walls to test various ink formulas. Nearly a year after their first exhibition at IBS, Black Buffalo 3D and their partner MAPEI became the first companies to meet the only global standard for 3D-printed walls, AC509.
Black Buffalo 3D's NEXCON printer and MAPEI's Planitop 3D NA ink now provide a complete AC509-compliant solution for structural and non-structural walls up to 40 feet high that are equivalent in structural integrity to standard concrete masonry blocks or CMUs. The company is currently using one ink solution but is experimenting with different formulas to bring their technology to even more home builders around the world.
"We are experimenting with regionalizing different formulas," Cooperman said. "For example, the Middle East might not need as many additives because it's hotter. We're also looking at different ways to make it greener and more sustainable."
The company's 2023 Global Innovations Award win is a nod to their due diligence in perfecting their 3D construction system. "It means a lot that our peers and veterans in the industry recognize that this is new technology that now, with the work we did, can really be adopted as an alternative to traditional," Black Buffalo 3D's Cooperman adds. "It was just great not only for our business, but for the industry as a whole to see this new technology being accepted by the mainstream community."
Black Buffalo 3D's goal moving forward? To continue educating as many people as possible about 3D construction and its benefits, as well as its applications in the home building industry.
"The tech is in its early stages, so it will continue getting better. Be creative with design, take advantage of the efficiencies," says Cooperman.
See NAHB's complete list of Global Innovation Awards Winners.