OMB Proposes New Standards on American-Made Building Materials
In a move that could affect single-family and multifamily affordable housing projects, the Office of Management and Budget (OMB) has proposed new standards to determine if construction materials for federally funded infrastructure projects are made in the United States.
The new guidance, required by the Infrastructure Investment and Jobs Act (also known as the Bipartisan Infrastructure Law, or BIL), "sets standards to carry out the statutory requirement that all manufacturing processes for construction material occur in the United States." Federally funded infrastructure projects include housing developments that receive any federal support, such as through the Community Development Block Grant (CDBG) or the Home Investment Partnerships Program (HOME).
Covered Construction Materials and Manufacturing Standards
The Build America, Buy America Act, which is part of the BIL, requires OMB to issue standards that define ''all manufacturing processes'' in the case of construction materials. Initial guidance (memorandum M–22–11) issued in April 2022 fell short of this and instead provided non-binding guidance on the definition of construction materials. The latest proposal includes an expanded list of products considered construction materials and proposes standards for ''all manufacturing processes'' for the manufacturing of construction materials.
Among construction materials covered by the guidance are lumber, drywall, glass and plastics. The guidance includes domestic manufacturing process standards for the following construction materials: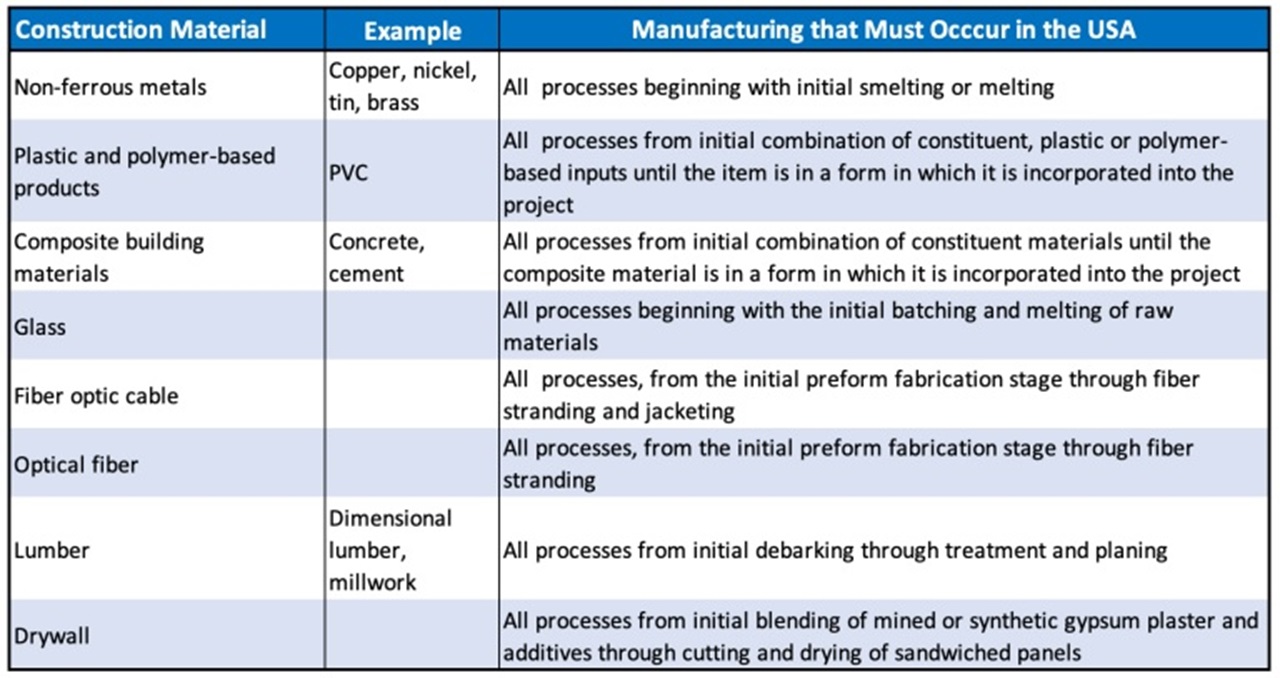 Public Comment Period
OMB has provided only 30 days to comment on the new standard. NAHB will submit comments as we believe that, under OMB's proposal as written, virtually all housing development could be excluded. We have strongly urged HUD to exempt single-family and multifamily affordable housing projects from the Build America, Buy America Back Act mandates.
However, NAHB remains concerned that the "built in America" standards may stall road and utility projects funded by CDBG or HOME that are needed to allow housing development to take place.
NAHB Senior Economist David Logan provides more analysis in this Eye on Housing blog post.