Building Materials Price Growth Slowed 60% in 2022
The producer price index (PPI) for inputs to residential construction less energy (i.e., building materials) rose 8.3% in 2022 (not seasonally adjusted) according to the latest PPI report — less than one-half the increase seen in 2021.
On a monthly basis, building materials prices declined 0.3% in December — the fourth consecutive monthly decrease. After increasing an average of 1.8% per month the first five months of 2022, the index averaged a monthly 0.1% decline from June through December.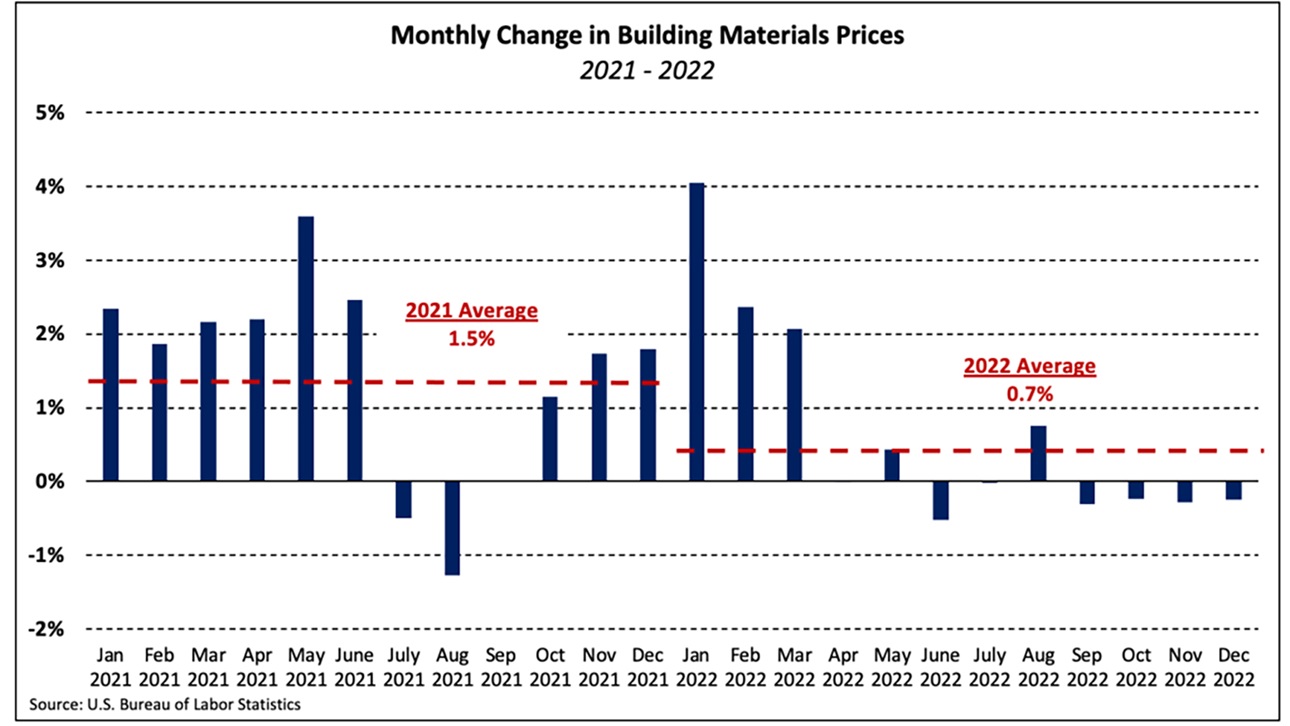 Price growth of goods inputs to residential construction, including energy, declined even more sharply over the year because of a historic increase in fuel prices in 2021. Prices increased 8.2% in 2022 after surging 20.8% the prior year.
Softwood Lumber: The PPI for softwood lumber (seasonally adjusted) fell 6.9% in December and 26.1% over the course of 2022. Since increasing the first three months of the year, the softwood lumber index has fallen 45.8%.
Steel Mill Products: Prices for steel mill products decreased 2.7% in December, the sixth consecutive decline. After soaring 128% in 2021, prices dropped 28.7% in 2022 — 25% since May.
Gypsum Building Materials: The PPI for gypsum building materials declined 0.2% in December but increased 17.6% over the course of 2022. Although the 2022 price increase was more than three times the 25-year average, it was substantially lower than the 23% increase seen in 2021.
Ready-Mix Concrete: The trend of ready-mix concrete (RMC) prices continued its historic pace as the index increased 1.6% in December. The PPI for RMC increased 13.6% in 2022, twice the 2021 increase and nearly seven times the historical average.
David Logan, NAHB's director of tax and trade policy analysis, shares more details and graphics in this Eye on Housing post.