HBAs Support Disaster Relief Efforts This Year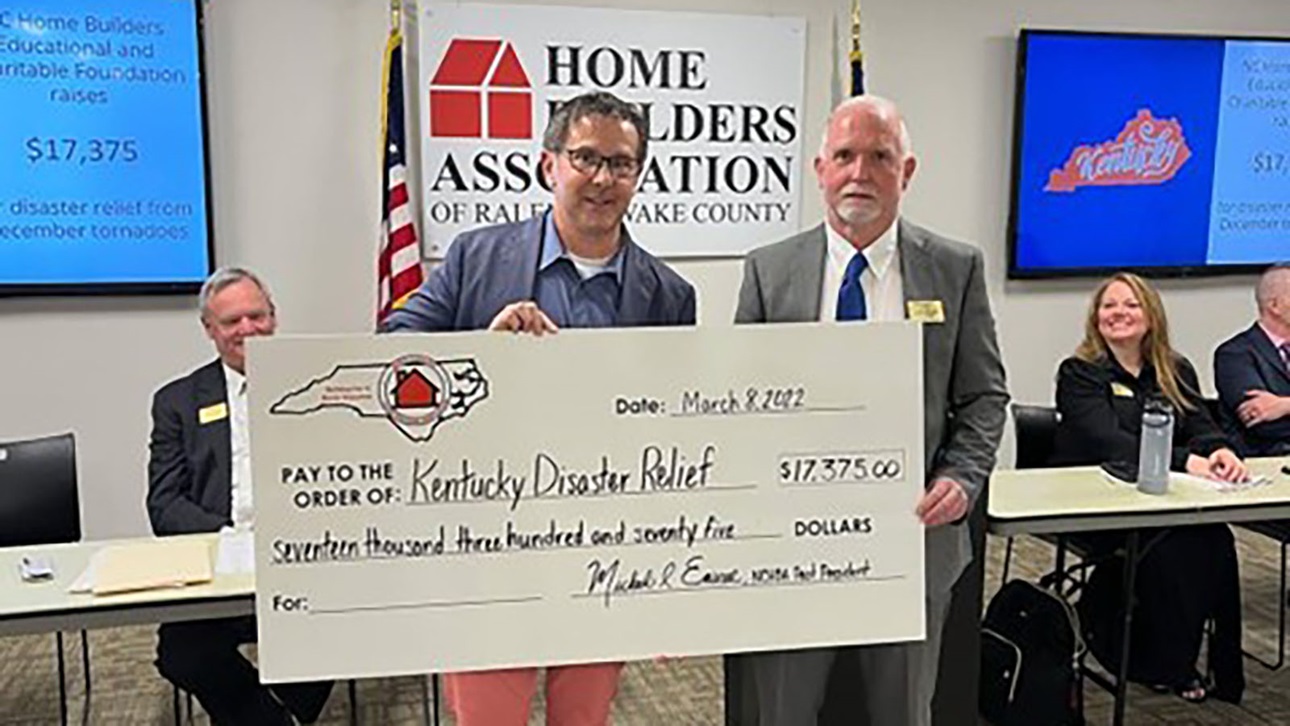 Natural disasters have devastated communities across the country this year. Many local and state home builders associations have gone above and beyond to support their communities and other local HBAs in times of crisis.
Tornado Relief in Kentucky
In the aftermath of devastating tornadoes in Kentucky, the North Carolina Home Builders Association placed a call out to members to support disaster relief efforts through the NC Home Builders Educational and Charitable Foundation. Both individual members and local HBAs stepped up and contributed to the effort. The Stanly County HBA contributed $5,000, and the Wilkes & Yadkin HBA contributed $2,000. In total, $17,375 was raised early this year to assist the hardest-hit areas of Kentucky.
Wildfire Relief in Colorado
In partnership with the Grand Foundation, the Grand County Builders Association (GCBA) provided $100,000 in individual grants to support rebuilding homes lost in the East Troublesome Wildfire disaster in October 2020. The awarded funds were made available by the Home Building Industry Disaster Relief Fund, designed to aid and lessen the total cost of rebuilding housing for victims of natural disasters. The funds will directly pay for common building materials including lumber, windows, appliances, plumbing and electrical components.
GCBA awarded the grant funds to primary resident families who were either underinsured or uninsured. In addition, the GCBA volunteer board of directors has worked daily to provide valuable resources to the community and local builders.
Winds and Flooding Relief in Texas
The Texas Builders Foundation, the Texas Association of Builders charitable arm, has contributed to many disaster relief efforts over the last decade. The Foundation contributed $7,000 to relief efforts this year, most recently to the United Way of Lamar County (Texas) following devastating winds and flooding. In addition, the Texas-sized generosity of its members extended beyond its state borders, providing support to the Florida Home Builders Foundation for their hurricane relief fund.
Hurricane Relief in Florida
The Florida Home Builders Foundation established a disaster relief designated fund to assist and support the communities hardest hit by natural disasters. Thanks to the generosity of many Florida HBAs and their members, the Florida Home Builders Association (FHBA) was able to support Hurricane Ian relief efforts this fall.
FHBA CEO Rusty Payton, NAHB disaster relief specialist Jonathan Falk and Jessie Spradley, EO of the Northeast Florida Builders Association, were among the volunteers who delivered hundreds of tarps and other roofing material to the Charlotte-DeSoto BIA and Manatee-Sarasota BIA.