All-Cash New Home Sales Outnumber FHA-Backed for the First Time Since 2007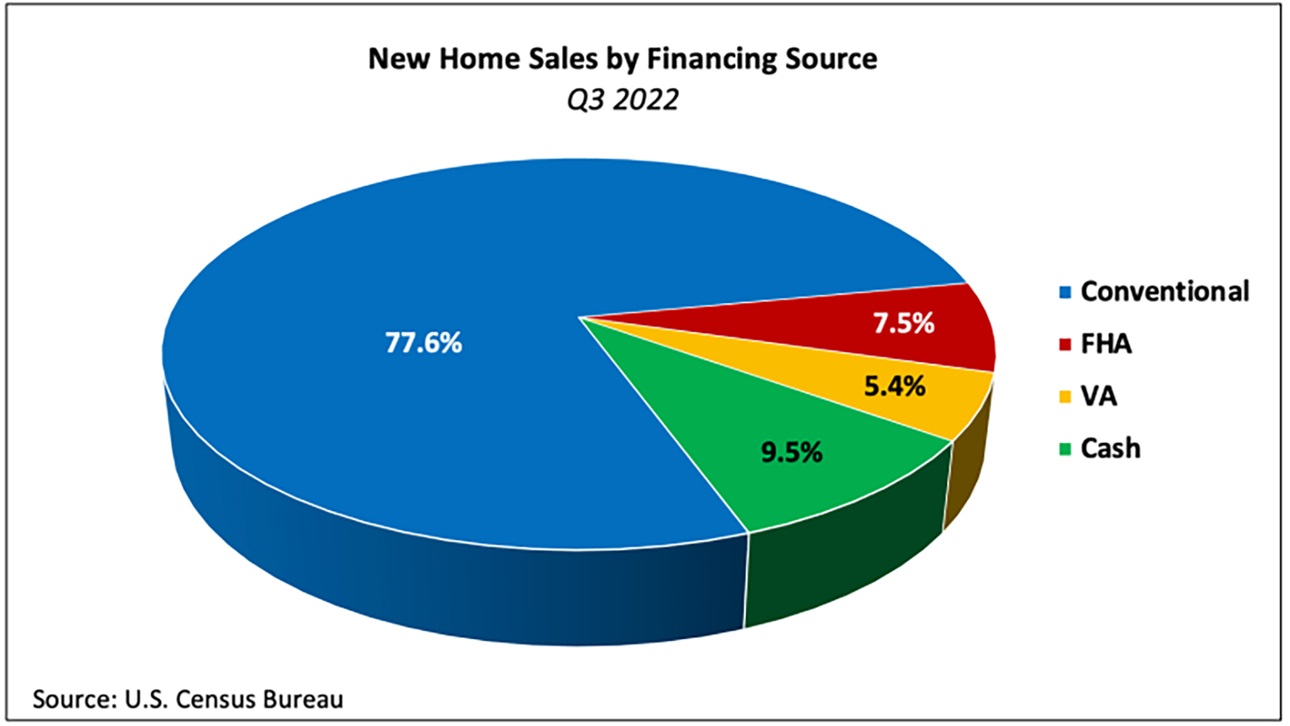 NAHB analysis of the most recent Quarterly Sales by Price and Financing published by the U.S. Census Bureau reveals that more homes were bought in the third quarter of 2022 using cash than were financed through FHA loans for the first time since 2007.
The share of cash purchases has climbed each of the past three quarters to reach a 20-year high of 9.5% (14,000 sales).
In contrast, new home sales financed through the Federal Housing Administration (FHA) numbered 11,000 and accounted for 7.5% of total sales in the third quarter of 2022 — the smallest share since the fourth quarter of 2007. The share has dropped by nearly two-thirds since the spring of 2020.
Other sources of financing include:
Conventional loans, which financed 77.6% of new home sales in the third quarter. This represents a 1.2 percentage point quarter-over-quarter increase, and the share has risen each of the prior seven quarters.
VA-backed sales, the share of which declined 0.8 percentage point to 5.4% in the third quarter but is 0.8 percentage points higher than the share one year prior.
In the second quarter, the national median sales price of a new home was $454,900. The median new home price has increased 5% in 2022, but there is a large variance by type of financing. The price of a new home purchased with cash has increased 27.3% since the first quarter of 2022, while the price of an FHA-backed sale has fallen 7.6%.
Split by types of financing, the median prices of new homes were:
Conventional loans — $503,200
FHA loans — $340,300
VA loans — $432,200
Cash — $494,200
Although cash sales typically make up a small portion of new home sales, they constitute a larger share of existing home sales. According to estimates from the National Association of REALTORS, 22% of existing home transactions were all-cash sales in September 2022, down from 24% in August 2022 and 23% in September 2021.
David Logan, director of tax and trade policy analysis, details key factors contributing to these dynamics in this Eye on Housing post.