2 Key Strategies to Reduce Home Wildfire Risk
All areas of the United States are vulnerable to one or more natural hazards — storms, earthquakes, floods, wildfires — but tend to be at higher risk for one or two. Understanding which hazards are a higher risk in your location is the first step to being prepared; no one ever wants to be out of his or her home because of a natural disaster, especially during this current public health crisis.
Summer is approaching, which is peak wildfire season for some. In addition, some areas of the country are currently experiencing drought conditions, which will increase the risk of wildfire.
There are two main types of strategies builders, remodelers and home owners can employ to minimize potential impact from wildfires:
Maintaining a defensible space around the home to keep a fire, and
Selecting building envelope materials and using construction techniques that can make it harder for the home to catch fire.
Defensible space encompasses three zones around the home. The goal of this strategy is to reduce the chance that embers will "jump" to a home and limit the opportunity for a fire to ignite close to the home. Strategically spacing vegetation and maintaining it regularly lessens the chance of exposure to direct flames.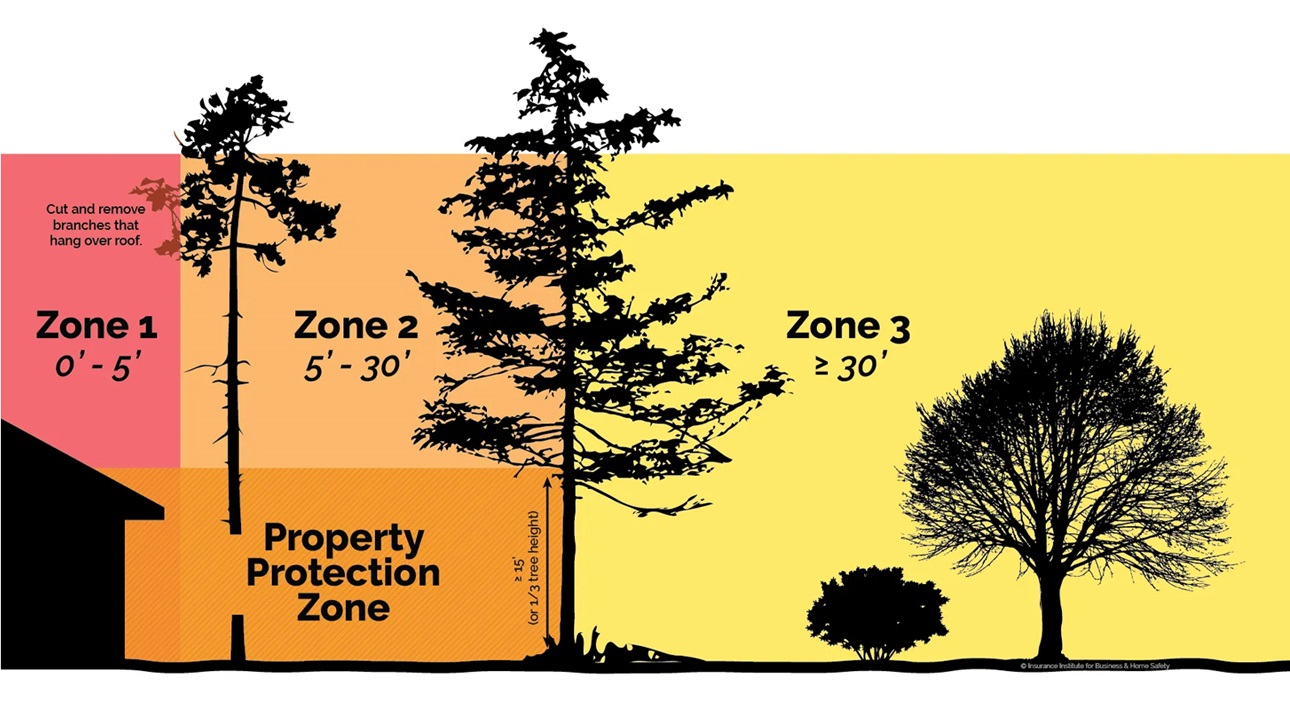 Zone 1: 0-5 feet from the building (and under the deck)
Goal: Create a noncombustible zone by using hardscapes and not planting vegetation directly next to the home
Zone 2: 5-30 feet from the building or to the property line
Goal: Locate and maintain vegetation to keep fire from climbing up and reaching the home
Zone 3: 30-100 feet from the building or to the property line
Goal: Strategically locate vegetation to slow down and reduce the energy of the fire.
Building envelope construction strategies and the material choices for the envelope can help to minimize fire risk from flying embers and flames. Examples of both include:
Using noncombustible roofing and gutter materials
Covering walls with fire-resistant materials such as brick, stone or stucco
Screening attic and underfloor vents to keep embers out but still allow airflow
Boxing in open eaves to create a soffited eave
Installing dual- or multi-pane tempered windows with screens
Encasing stilts so there is no opening below the floor, balcony or deck
Sealing the garage door with weather stripping to help reduce ember entry
Check out disastersafety.org for additional information on building and maintenance to reduce risk from wildfire. The International Code Council also publishes the International Wildland-Urban Interface Code, which communities desiring to address wildfire risks on a jurisdiction-wide scale can adopt.
To stay current on the high-performance residential building sector, follow NAHB's Sustainability and Green Building team on Twitter.