NAHB's Response to the NFPA Fire Sprinkler Initiative
The National Fire Protection Association released this infographic on why it thinks homes fire sprinklers are important. They make some compelling points; however, click each section below to see NAHB's response to these claims.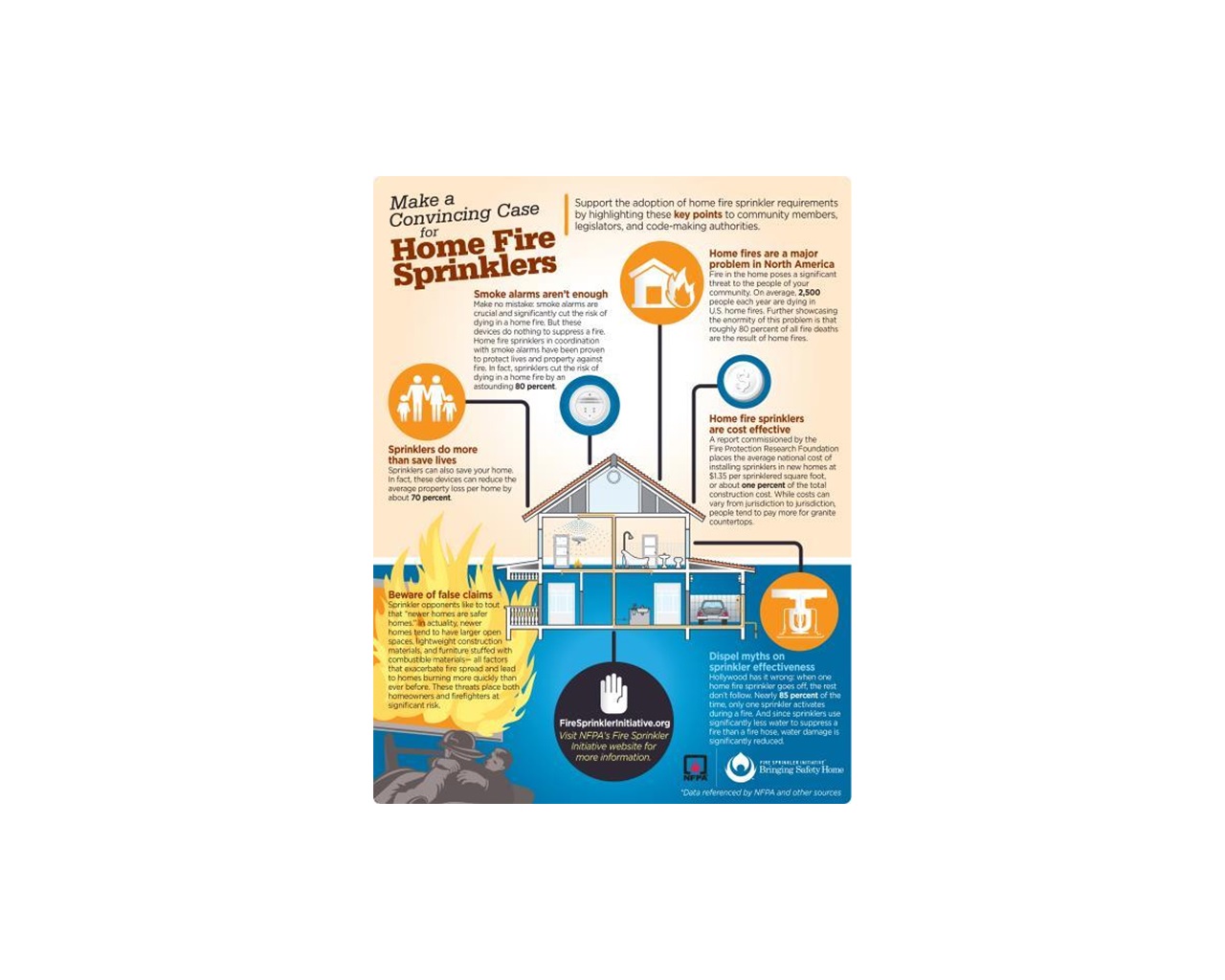 Beware of False Claims
This gratuitous attack on new construction techniques is made without a shred of supporting evidence. The reason? There is none. According to the National Fire Protection Association's U.S. Home Fires Fact Sheet, the leading cause of unintentional home fires are cooking equipment, heating equipment and electrical distribution and lighting equipment. Newer homes are built to a system of building codes explicitly designed to make homes safer.
Dispel Myths on Sprinkler Effectiveness
It is quite true that movies and TV shows often misrepresent the way a well-maintained residential sprinkler system functions. However, NAHB bases its policy recommendations on sound science, not movie scripts.
Fires Are More Likely in Older Homes
Home fires are tragic. But changing residential building codes to allow sprinklers won't change that, because they apply only to new homes. And that fact is that in the limited number of states where we have been able to match the age of the affected homes with standard national fire data, it's clear that fatalities are concentrated in older homes. To reduce fatalities, we need to make older homes safer. That's where working smoke alarms make a life-saving difference.
Residential Fire Sprinklers Aren't Designed to Save Property
Fire sprinklers as damage preventers? Don't go there. Studies that "prove" reduction in property loss by 70% are inconsistent with established studies that indicate that in some cases, fire sprinklers increase property loss because of the significant water damage they can cause. If the occupants are away or in a different part of the house — or if they accidentally discharge — the amount of water released can be quite considerable.
Smoke Alarms Work
If that 80% figure were accurate, we wouldn't be having this discussion. But unfortunately, the numbers supplied by fire sprinkler manufacturers are based largely on multifamily properties — whereas the code addresses single- and two-family dwellings. It also doesn't include instances where the sprinklers did not operate or when it's not known whether they did. Here's a fact that's more relevant: Ensuring that every home had at least one working smoke alarm would save about 890 lives every year in our country. This would benefit everyone — not just those who can afford a new home.
Sprinklers Aren't Cost Effective
It's simply inaccurate to say that residential sprinklers average about 1% of a home's cost – unless you are talking about a home with a price far above the national median. The Fire Protection Research Foundation puts the cost at an average of $6,000. That additional cost prices out many would-be home buyers — and doesn't even include the additional cost of regular maintenance to keep the sprinklers operating effectively.