Alphabet Soup: Letters After Names
By Christian D. Malesic, MBA, IOM, CGR, CAPS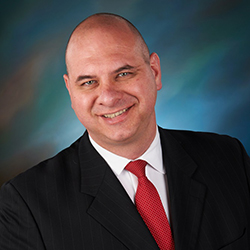 When you are handed a business card of a professional with letters after his or her name, what thought comes to mind? That of the infamous billionaire Thurston Howell III, the famous character from the TV sitcom Gilligan's Island, who was tactless, blameful, pretentious and lazy? Or, the customer service-oriented, career-minded, educated professional who wants to do the job right the first time to earn your praise and your smile?
Letters after names mean things. They should be a prerequisite when choosing a professional.
The Difference is in the Details
Letters after names are officially called "post-nominal letters." They can be earned for a number of accomplishments. Letters can be earned for academic education, accreditation, certification, designation and/or recognition. Although the result is the same – the professional can place some letters after his or her name – the prestigiousness of the accomplishments are not the same. There are clear levels of accomplishments which are greater than others. Said plainly, some letters mean a lot more than others.
Academic Education – Although a student should be proud when he or she earns a certificate degree, associate degree or bachelor's degree, these academic degrees don't merit letters. It's acceptable to use more advanced degrees, such as a master's or doctorate. However, if someone has a master's and doctorate in the same discipline, he or she should only use the higher degree. When both advanced degrees are from different disciplines, both can be listed.
Accreditation and Certification – Usually, a training or education program is "accredited" through a process by which an entity grants public recognition to an organization that has met existing qualifications or standards and then those who voluntarily met the qualifications become recognized as "certified."Though not as prestigious as academic education, certified programs require the professional to have a number of years of experience in the profession, pass a comprehensive test and complete continuing education to maintain the certification.
Designation – Although training is part of earning a designation, and sometimes, so is even passing a comprehensive test, a test is not required of all designation programs. NAHB requires continuing education for all of its designations; however, there may be some organizations that do not. Therefore, it is an accomplishment worthy of letters, but at a lower level than accreditation or certification.
Recognition – Still worthy of post-nominal letters, recognition is the least prestigious of the four categories. It may be earned through training or simply through reaching a professional career milestone that is often not achieved by others in the same profession. Testing, experience and continuing education then are not involved.
Order Means Everything
When a professional has earned more than one set of post-nominal letters, it is appropriate to display each set of letters after his or her name. This is done in descending order, with the most prestigious letters being first (closest to the name), followed by a comma, then the next set of letters and so on.
Thus, when Snoopy earns his doctorate degree in engineering, he becomes "Joe Cool, PhD. " When he passes his first set of exams on the way to becoming a Professional Engineer (PE), he is known as an Engineer in Training (EIT) and becomes "Joe Cool, PhD, EIT. "
Finally, when Snoopy goes back to school to sharpen his design prowess and eventually earns his Master of Architecture (M Arch), he becomes "Joe Cool, PhD, M Arch, EIT." It is important to note that post-nominal letters do not appear in the order in which they were chronologically earned; instead, they are listed in the order of the importance of the accomplishment.
Once earned, a professional has every right to use all of the letters for each accomplishment earned as long as he or she maintains a license, continuing education or other requirements. That said, some people choose to display only three sets of letters.
Usually, the professional drops the least prestigious accomplishment(s) to display three or less. In certain instances, it is appropriate to show all of the accomplishments (more than three) of the professional in the form of post-nominal letters; examples include receiving an award, when instructing or teaching on relevant subject matter or other special circumstances (such as shown herein by the author: when writing an article on letters after names). However, even if not used after the professional's name, the accomplishments should always be shown on a résumé.
Tying this Back to Construction
Like every profession, there are some Chuck-in-a-Truck, fly-by-night contractors who give our industry a bad name. Nothing causes the blood to boil more than when a professional builder, remodeler or trade contractor hears a story of a home or business owner being burned by con-artists or unskilled workers. The scammers and wannabes bring down the reputation of the industry and of the true professionals who believe their careers honorable, take pride in their knowledge of the latest codes and products and maintain a high level of continuing education as represented by post-nominal letters.
When talking to clients or potential customers, tell them why they should work with someone with letters next to their name, particularly an NAHB designation. Whether they are choosing a designer, contractor, real estate agent, banker, accountant or lawyer, they should hire professionals who take their careers seriously by staying at the top of their profession. It may cost them a little more to hire someone with these credentials or they may have to wait a little longer before starting their project. In the end, they will serve them better.
Letters after names mean things. Look for them. Learn about them. Share the value with consumers and encourage them to hire professionals who have earned them.
Christian D. Malesic, MBA, IOM, CGR, CAPS is the executive officer of the Home Builders Association of Berks County. He provides insight on construction issues, business operations, marketing, personal finance, and occasionally, on political philosophy/history. Email Christian to receive notice of the newest articles or follow him on Twitter @CDMalesic.