Coventry Log Homes Produces a Dream Custom Craftsman Home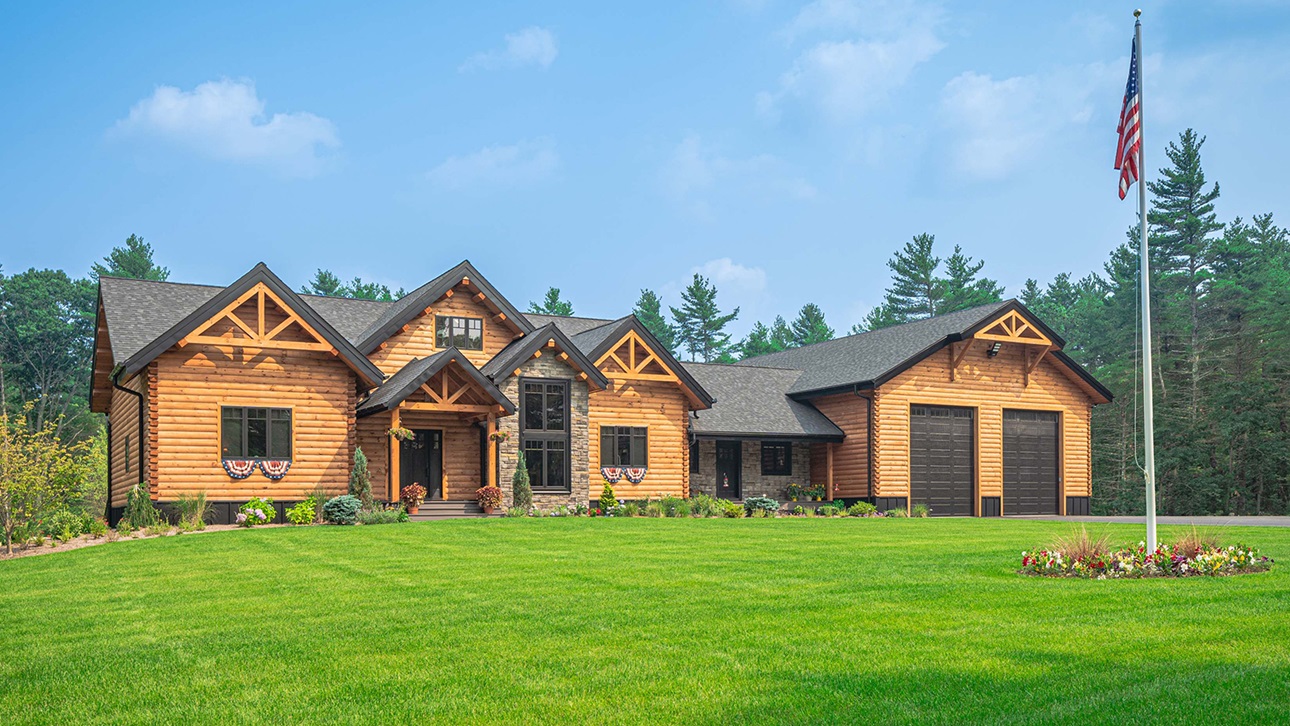 With nearly 100 different home designs to choose from at Coventry Log Homes, customers can start from many different models and decide on various options. Occasionally, customers who see current models will purchase them as is or they will make slight customizations to them to fit their specific needs. Very seldomly does a customer have a vision of exactly what their forever dream home is, and Coventry is available to turn that dream into a reality!
Last year, Coventry Log Homes sales representative Jeremy Elliott helped design, plan and produce a once-in-a-lifetime completely custom Craftsman home. This home is full of character and uniqueness, from the dovetail corners to the use of stone, metal and other exotic woods. It is one of the largest ranch homes that Coventry Log Homes has ever produced.
Jim and Janice had a background in construction and an artistic eye for creating custom furniture to outfit log homes. They came to Coventry Log Homes with a fantastic vision to produce their dream home.
"Jim and Janice came to me after their initial inquiry with a plan they had been discussing, and we made an instant connection, diving into fine tuning their plan to create the beautiful design they now call home," Elliott explained. "Jim has a construction background, and both an eye and art for creating custom furniture and decorations fitting to a log home! As the photos tell their story, you can see that together they had a vision for every detail in their home."
In just a few short months, Coventry Log Homes drew several plans for approval to get the details together. Coventry Log Homes offers five different style homes: Tradesman, Craftsman, Adirondack, Timber Frame and Cabin. Jim and Janice chose to go with a Craftsman style home, which incorporates a heavy beam system for the roof structure and ceiling for a more rustic look and warm feel to the home. Jim and Janice used many different materials on the interior and exterior to really make their house stand out.
"Jim and Janice decided to use Coventry's kiln-dried Eastern white pine 8"x8" D-style log with dovetail corners covered and protected with Q8 Log Oil," Elliott noted. "In the planning process, they designed certain areas of the exterior to have stone and metal to add to the look and character, and utilized and color coordinated composite deck and railing materials give the curb appeal that their beautiful home has today."
The interior photos tell the story of their vision and talents, featuring a variety of materials such as exotic woods, metal, drywall and stone to give their home that amazing look and instant warmth.
"From the beginning, I knew this would indeed be a home most dream of building," Elliott recalled. "Since I saw the pictures, my instant reaction was shedding few proud tears of joy and happiness that I had been blessed to be a part of creating such a beautiful home and once again seeing one's dream become a reality!"
Story By: Corey McKean
Log Home Manufacturer: Coventry Log Homes